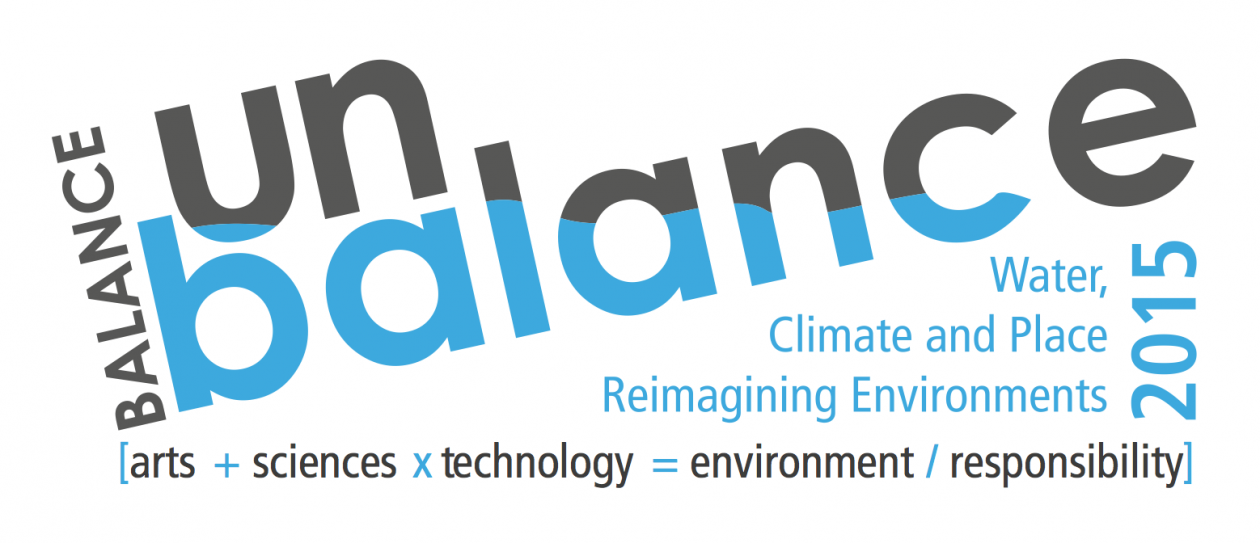 The Balance-Unbalance 2015 International conference theme, 'Water, Climate, Place: Re-Imagining Environments' is aimed to provoke discussion and reflection on how the climate is changing and what our future might hold.  It does so by directing trans-disciplinary thought and action as tools for positive change.
Led by the arts and humanities, Balance-Unbalance 2015 international conference is a three-day conference which will took place March 27-29, 2015 at the ASU Tempe Campus, in Arizona. It brought multiple disciplines together with submissions from 24 countries and a keynote lineup of high profile presenters from business, art,music and acoustic ecology, the Red Cross, water research and community engagement with rain forest initiatives in South America.
The intersections between nature, art, science, new technologies, aid agencies and society are formed with the goal of developing cross-disciplinary initiatives using innovative art and technology to advance ecological awareness and sustainability practices to inspire wide-ranging community engagement in the face of unprecedented environmental challenges. Previous conferences have produced collaborations with the Red Cross as a competition for musical works in support of their global campaigns on Climate Change.   The 2013 conference witnessed the forming of a project to address the complexity of moving entire communities in the Pacific Island country of Vanuatu who are affected by rising sea levels.
Founded by Argentinian-born artist and scholar Ricardo Dal Farra in 2010 to promote novel forms of creativity that can help solve environmental problems, Balance-Unbalance has been sponsored by UNESCO, the Red Cross/Red Crescent Climate Centre, Leonardo Journal: The International Society for the Arts, Sciences and Technology, the National University of Tres de Febrero, Argentina (2010), Concordia University, Canada (2011), Central Queensland University, and the Noosa Biosphere in Australia (2013).
"We are living in a world at the tipping point, where the equilibrium between a healthy environment and the energy our society needs to maintain or improve its lifestyle and its interconnected economies could collapse more quickly than expected. Today's delicate balance is at a critical point with the potential to herald a new reality where unbalance is the rule. The conference envisions the arts as a catalyst for reimagining our current environments."
Leah Barclay is a member of the executive committee in addition to curating the virtual program for Balance-Unbalance 2015. She is also involved in a variety of events throughout the conference ranging from performing at the Art Gallery Opening to speaking on multiple panels about her latest research. Leah presented a paper on the River Listening project and outcomes from Synapse, the abstract in available here. The paper is titled "River Listening: Creative Approaches to Aquatic Bioacoustics in Australian River Systems"
Leah has also been actively developing several long-term Balance-Unbalance projects that will be presented in Arizona, including a project called CONNECTING COMMUNITIES, a new approach to the Balance-Unbalance 2015 Welcoming Ceremonies that connects the local community with the Noosa Biosphere Reserve in Australia and remote pacific Islands in the Republic of Vanuatu.
At Balance-Unbalance 2013, Lyndon Davis and Gubbi Gubbi Dance opened and closed the conference with a traditional Welcome to Country and cultural performance. In 2015, we are pleased to present a brief window into their rich cultural tradition with a welcoming performance on the banks of the Noosa River, at the exact location where we closed Balance-Unbalance 2013.
This is an opportunity to continue the conversation and respectfully acknowledge the traditional custodians of the land where Balance-Unbalance travels for each conference. The Leweton Cultural Group performing Vanuatu Women's Water Music were a highlight for many at Balance-Unbalance 2013 in Australia and we have maintained an ongoing partnership to make sure remote coastal and island communities have a voice in global conversations around climate change.
Leweton Cultural Group hails from the remote tropical northern islands of Gaua and Merelava in Vanuatu, and live in a village in Espiritu Santo where they present, share, and maintain their unique cultural traditions and practises across cultures and generations. The Leweton Cultural Group has attracted attention from across the world with the mesmerising women's water music and the energetic sounds of String band Matto.
These remote Island communities are experiencing the true ramifications of climate change and at Balance-Unbalance we recognise the critical value of engaging with Indigenous knowledge systems in responding to climate change. We are privileged to include the Leweton Cultural Group in Balance-Unbalance 2015, with a Kastom Ceremony and Water Music performance conducted in Vanuatu especially for the opening of Balance-Unbalance 2015. This video also includes a welcoming message from Sandy Sur, a community leader from Vanuatu and the Leweton Cultural Group.
We are completely devastated by the damage, deaths and destruction caused by Cyclone Pam in Vanuatu and shocked to hear that thousands of people have been displaced by this catastrophic cyclone. We hope to make some contribution to the affected communities during Balance-Unbalance 2015 and commit to working with them in the future.